SAL FINE ART GALLERY
Situated in the heart of Dublin and right beside Temple Bar, Sal Fine Art Gallery is an intimate and bright working gallery that seeks to promote the works or exciting Irish and international artists and photographers.
Our gallery space is available to rent for pop-up shows and for longer exhibitions. For queries please email us at hello@salstudio.ie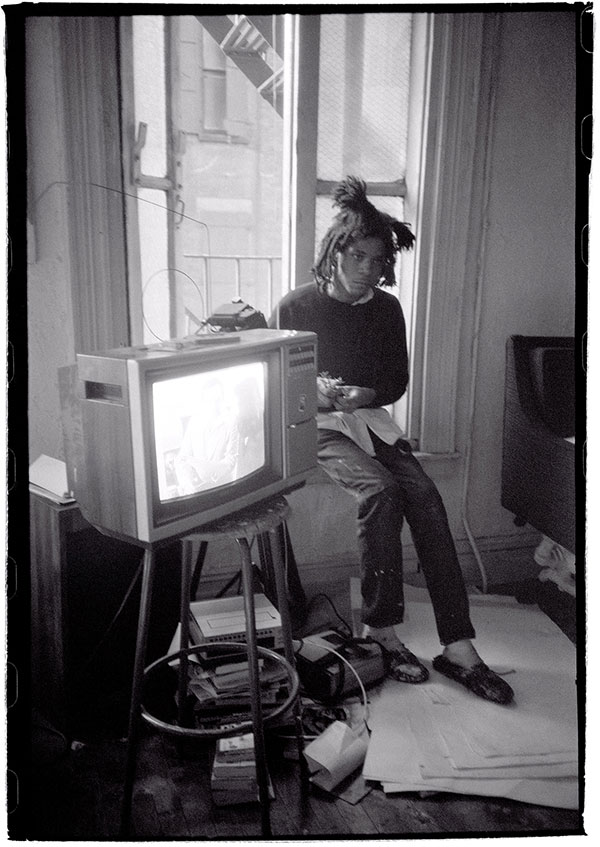 Jean-Michel Basquiat with TV", NY 1983, (c) Roland Hagenberg
EXHIBITION
Opening 13th November, we are excited to launch a collection of never seen before photographs in Ireland of the iconic American artist Jean-Michel Basquiat by Roland Hagenberg.
Roland's photography is accompanied by the interpretive artwork of Joe Henry that reveals Basquiat's powerful energy and charisma.
Roland arrives from Tokyo especially for the opening and has collaborated with Joe on a special large size artwork which will be unveiled at the launch.
If you are interested in attending the opening night please email us: hello@salstudio.ie
Roland Hagenberg
During the 1980s, Austrian artist, photographer and writer Roland Hagenberg documented the art world in New York, where he met Andy Warhol, Jeff Koons, Keith Haring, Louise Bourgeois, Robert Mapplethorpe, Francesco Clemente and dozens of other renowned artists in their studios. Among them was Jean-Michel Basquiat whom Hagenberg photographed while painting in his Crosby Street studio.
The result was a portfolio of black and white photographs depicting Basquiat's dark-romantic world with a sense of foreboding. A few years later he died at the age of 28 years.
Roland Hagenberg's impressive portraits have significantly shaped our image of Basquiat, the artist.